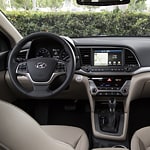 The Hyundai Elantra is a sleek and stylish vehicle that has many interior features to make your drive as comfortable and enjoyable as possible. The first thing you will notice when you get inside the car are the heated seats, which provide maximum comfort on cool days.

These seats also have an eight-way power adjustment so that you can find the perfect position for any occasion. The driver seat also has a tilt and telescoping function, allowing you to adjust the position with ease. There is also a lumbar support feature built in, which will give you added comfort on long drives.

The steering wheel comes with full controls, including audio and cruise control for your convenience. The standard Elantra comes equipped with a six-speaker CD audio system, which provides excellent sound quality during your drive. Bluetooth connectivity is also included for hands-free calling when you want to stay connected while on the road.

The Elantra's standard interior lighting comes in blue and guides you through dark roads with ease. This lighting option has been designed to reduce eyestrain while driving at night.