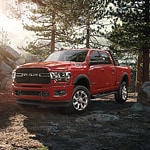 Overview
The Ram 2500 is a stylish heavy-duty truck that is impressive in many ways. Once you take a step into the truck, you will be amazed by what it has to offer to you. From excellent entertainment features to comfortable materials, there is a lot that you will appreciate about the new Ram 2500 model.
Luxury
Across it's numerous trim levels and configurations, the Ram 2500 lines shares something in common, most of its models have premium-quality materials. Some models have interiors that include full-leather upholstery while others include additional elements, like wood accents and special embroidery patterns.
Driver Convenience
The interior of the new Ram 2500 is equipped with several features and technologies that make driving much simpler for drivers. A digital rearview mirror makes it easier for drivers to reverse their trucks and monitor their trailers. An available digital gauge cluster displays important information for drivers with a full 3D color view.