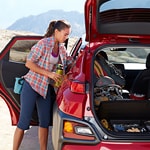 As far as popular small SUVs go, the Hyundai Kona has quite an impressive array of features that you may want to take a look at. These all combine to create a comfortable driving experience that you are sure to appreciate. Such a vehicle comes with many advantages as well.
With the redesigned configuration of lights in the rear, you will notice that the Kona looks much different than other vehicles on the road. This is by design. The brake lights are rather slim, creating a sleek look that is easily identifiable on the open road. The turn signals are creatively designed as well.
There are also several unique exterior colors to choose form. They are purposely different from other vehicles on the market today, and they contrast well with the roof that is of a different texture as well. Stop by Tom Ahl Family of Dealerships when you have some spare time to take the Kona for a test drive.