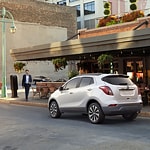 At Tom Ahl Family of Dealerships some vehicles demand your attention and compel you to look at it from top to bottom. The Buick Encore is an example of a vehicle that has been designed to impress with every inch of the vehicle. No feature is wasted on this particular model.
The Encore has the grille as well as the front fascia which not only draw attention to the overall style but also has a smooth flow with it. With these features put together with the overall exterior design, the Buick Encore is given a look that is sleek as well as sporty.
This look is complete with the wheels. The Encore offers 18-inch 10-spoke aluminum wheels which come with a light argent finish which completes the style of the Encore. After looking at the style, you would be compelled to take the Buick Encore for a ride.