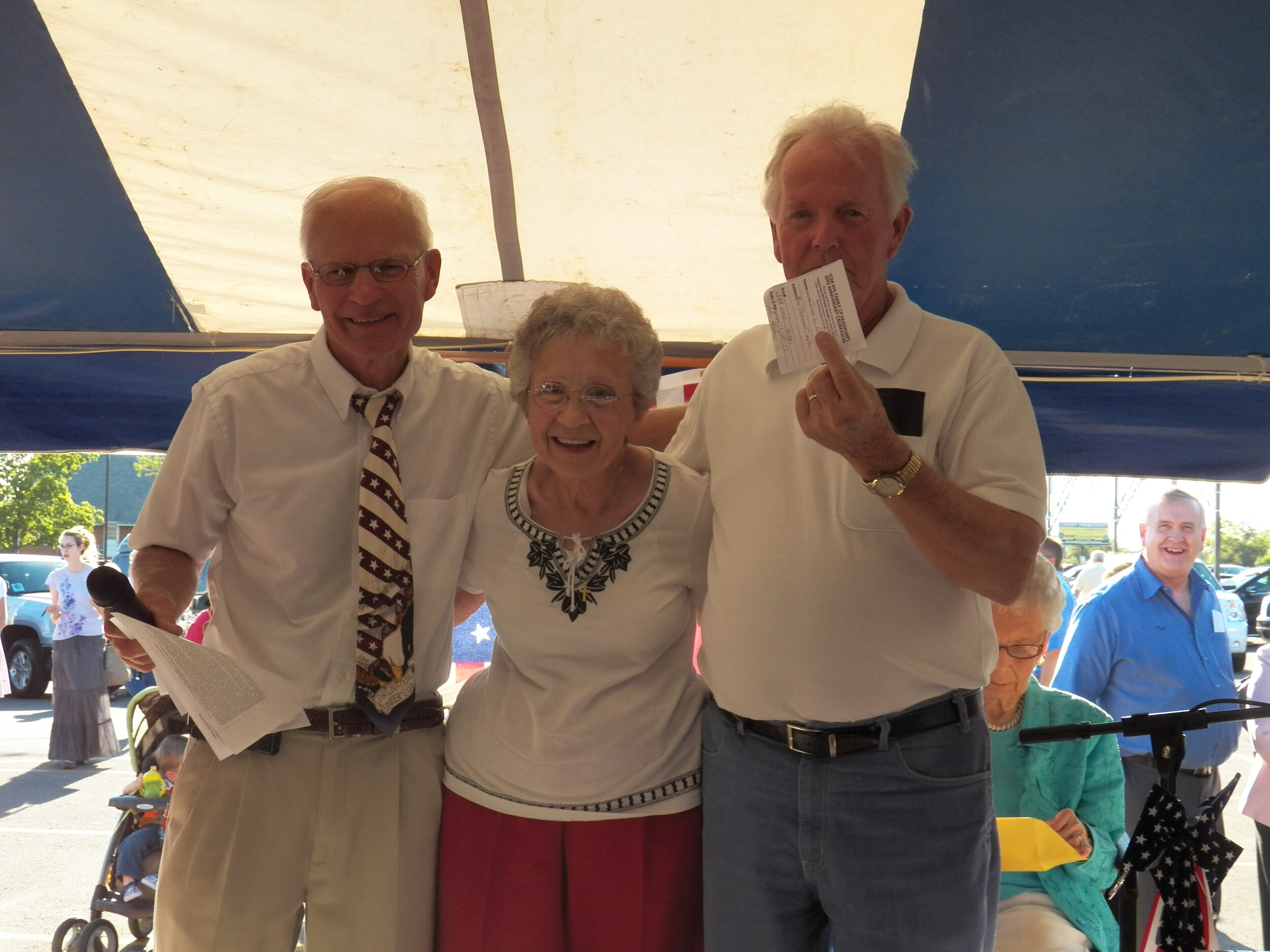 June 14th was the day we celebrated being in business for 50 years! It was quite an evening here at Tom Ahl Family of dealerships. We had 2,637 customers and community members from Lima, OH and the surrounding areas sign up for a chance to win a brand new vehicle and many other great prizes.
To start out the evening, we brought in an inflatable for the kids to play on. It was the perfect item to keep the kids occupied. Not to mention, the employees loved to run through it too! We had a coloring contest for the kids and there were 3 lucky winners who each received a Toys R Us gift card.
Our drawing was scheduled to start at 5:30 pm; we had people showing up around 3:30 to get a good seat and snag a few hot dogs before the line got long. A couple Tom Ahl employees were at the grill cooking for our guests for the evening. Before we knew it, the seats were filling up and the food line was getting long.
Tom Ahl was congratulated by GM for 50 years in business and he was presented an award. This was a good way to kick off the events that were about to happen. At 5:30 sharp we drew the 1st name of a prize package winner. We had prizes donated from a variety of businesses, which were very appreciated, plus prizes we wanted to include that we knew everyone would love. There were a total of 50 prize packages, with the 50th being the car, of course! Our prizes ranged from amusement parks to gift cards to spa outings to gym memberships to iPods. It was a great variety and exciting gifts.
It finally came down to the drawing for the brand new 2012 Buick Verano. We were so excited to be giving it away to one lucky guest. Tom Ahl's mother, Peg Ahl, drew the name out of all 2,637 names. The first name she drew was John Garin. We knew they were in the crowd with us because we could hear the excitement as John and his wife quickly made their way to the front of the stage. They had purchased a van from us a few months prior to our big event. We greatly appreciate it and we hope you enjoy your new vehicle!
Thank you to everyone who came out to enjoy a good time with us that evening. Also, a big thank you to those who donated some of our prizes for the event. It has been a great 50 years and there are many more great years to come!